My daughter Emma had a baby girl last Saturday! It's her first baby. Our family hadn't had a baby in a couple years and we were all getting a little baby hungry, especially Shay! Shay is my son's wife, she has 2 little girls of her own, but alas……they are 2 and 4 and soooo not tiny babies any more. So partially because she's in a baby mood and partially because she's just a sweetheart, she decided she would do up a cute little nursery for baby Ella as her gift.
Emma became a huge Harry Potter fan from the first chapter of the first book of the series. So Shay wanted to do a Harry Potter themed nursery. I thought it would be a great idea, but I am creatively challenged and I couldn't really see how you could get Harry Potter to look like a nursery, let alone a little girls nursery. However I have seen what Shay can do and I wasn't too worried about it.
Shay decided to let it be a surprise for Emma and Emma was only too happy to just let her do whatever she wanted. Emma said that if it had been left up to her, the poor thing would have a bed and maybe a dresser, that's pretty much it! So Shay started pinteresting and thinking and letting her fingers do the walking through Etsy stores. She came up with some really great ideas and they were very cost effective too. Emma couldn't be happier with the result! It's pretty without frills and pink and glitter, (which would have caused Emma to run for the hills and perhaps burn down her house) it's very peaceful, it's gender neutral and it's fun!
So here are some details from the nursery: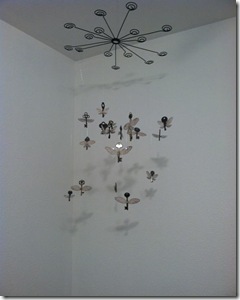 Here is the flying keys mobile. The keys were from Micheals, the wings are made from vinyl and hot glued on. They are hung with fishing wire from a Metal spiral thing that Shay got from Good Will. Now in case you are worried about baby grabbing onto flying keys with wings glued on, you should know that this is hung much higher that the baby will ever be able to reach. Well, at least until she's old enough to push a chair into the room and climb up! The picture doesn't do the mobile justice, you have to trust me on this, it's adorable!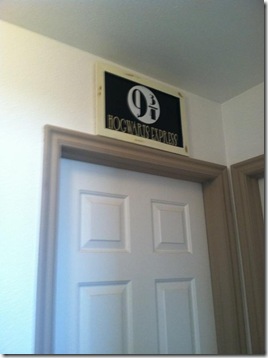 The entrance to the nursery is a simple sign made from vinyl. What Harry Potter nursery would be complete without a platform 9 3/4 sign?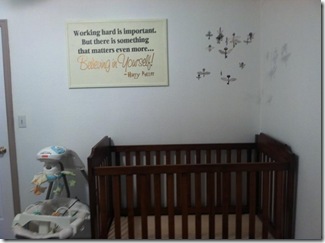 And then there is an inspirational quote from Dumbledore himself. It's one of Emma's favorite quotes from the book and it's a good one for a nursery I think. All it took was a canvas and some paint.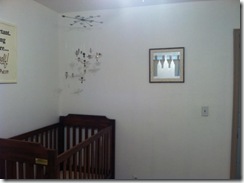 Now the mirror of Erisid I thought was absolute genius! If you remember in the story, when you look into the mirror you will see the thing you desire most. So Shay etched the mirror with an image of a temple! She combined a Harry Potter theme with an eternal concept and found a way to put the temple into Ella's room. It's quite smart.
The crib Aunt Shauna bought new, but at Emma's request she bought it from Deseret Industries. the furniture they make in fabulous! It's made from solid wood, it's incredibly sturdy and will last through however many kids they have, and the dark stain matches the dresser perfectly. The cost is on par with lower level furniture, but it's built much better. When you think beds, tables, whatever, think Deseret Industries! It's a real cost saver and the furniture will last and last. My grandkids are now using bunkbeds we bought for my kids and they may go on forever.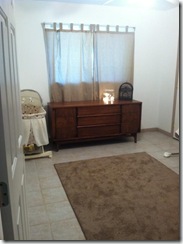 Now here is another great idea! This dresser is a yard sale find! It's a little older style but after doing a little research, Aunt Kim found out that although she only paid $20 for it, she could easily sell it for closer to $1500. It needed a couple small things repaired, and in stepped grandpa who knows all things wood. It was quickly fixed and Kim donated to the nursery. Shay also found a bassinet and a bouncer through yard sales. A little washing and cleaning and they are all like new. Shay thought to ask questions before she bought them, like: have they been in a house with a smoker? Pets? It helps determine whether or not you want to deal with it.
A decorative bird cage now holds newborn diapers, another Deseret Industries find and it was sprayed with an oil rubbed bronze by Rustoleum. A glass block with another great quote is filled with white Christmas lights and makes a wonderful night light.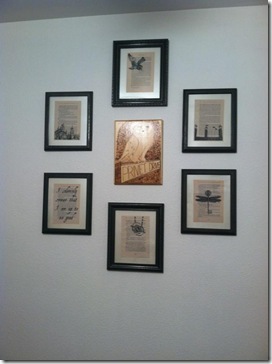 Inexpensive oak frames, similar in size and shape were found at Deseret Industries and other places. Shay spray painted them with a grey metallic that imitates hammered metal, it's a forged hammered spray paint by Rustoleum. When you look at them all together you would never know how they started life! Shay found an Etsy store that takes pages from Harry Potter books, applies an ink print picture over the top that coordinates with what is written on the page. They look really great!
In the center is a white owl sitting on a privet drive sign. It was made by my daughter Jessica using a wood burning tool. The whole thing looks great together and gives great Harry Potter flare without being really toooooooo cute!
Altogether we all really love the nursery. It was a great idea and it turned out better than we could have asked. Emma is thrilled with it and all her friends are seriously jealous when they come to see it. Thanks Shay!!! Ella is now officially spoiled by the best room in the house!