Even on vacation there has to be an alarm sometimes, not the fire kind those are bad, but the get up and at them kind you're going to miss all the fun!
So early this morning we woke to the sound of the alarm. We had showers, packed up and off we went. As we headed for the lobby Adam said he needed a quick duck into the business center to "borrow" a mouse to fix his tablet. He had found a way to fix it and wanted to do it before we left. I knew he couldn't leave it alone! But within 5 minutes he was back with me and had a victorious look on his face, all was right with the world once again.
We left our luggage in the lobby with the bellman……yes we had a bellman….no he didn't wear a cute uniform with the monkey hat, just the lodge shirt…..oh well. The lodge would transport our luggage for us to our next hotel in the Grand Canyon, so we left it there and went back to the café for breakfast, also included in the package. They had some good stuff, eggs, bacon, sausage, pancakes, biscuits and gravy, an omelet station, fruit, cereal, all kinds of things. We had our fill then headed out to the other end of the complex to the bleachers to see the wild west show!
On the way I had to take this picture with a surprisingly willing person…….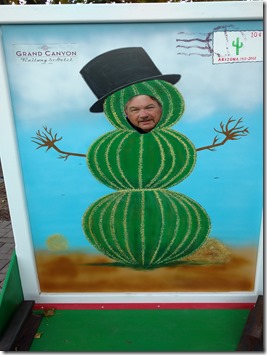 .
When we arrived we were greeted by the sight of a tiny old woman dressed as an elf and proud of it! Apparently she does this sort of thing for the lodge every year and loves it. She walked around greeting people but seem to think the horses needed someone to talk to too, so off she went.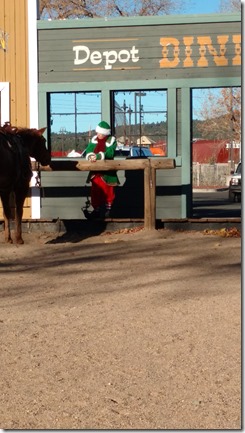 The show was corny as heck but very amusing, the cowboys were really playing it up and my goodness what a job to have! There was a poker game full of cheating, some lies and tall tales, some accusations of horse thieving and a good old fashioned shoot out which the Sheriff won handily, although he cheated badly. My favorite part of the show wasn't even part of the show! The horse pictured by the elf was badly in need of a snooze. She was doing some serious nodding off, the kind where your head wobbles and then jerks up, then she'd stumble a bit and twice she tried to lay right down but was brought up short by the reins. It was sad and funny! The cowboys kept going over to slap her rump to wake her up but she wasn't having any of that, she was tired!
So show over, we board the train.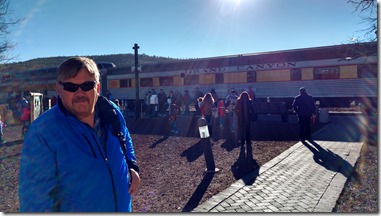 It's quite a long train, 3 coach cars, about 4 1st class cars and then a few luxury cars. In the luxury cars your wine is uncorked at your seat and your lemonade is poured into your chilled glass from a pitcher……..we were in coach…..there was ice water and a café car with soda…..it was so great!
The train ride to the Grand Canyon was part of the package and really the whole reason why I chose this vacation. Adam loves to ride trains! It's a 2 hour 15 minute ride to the canyon, it only covers 65 miles but the train goes up hill and down and has many curves to negotiate so the ride is slow, and we loved it!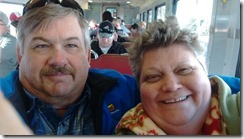 We were welcomed by Kathy with a K who was our PSA or passenger service attendant. She introduced herself by telling us her name was Kathy with a K because that's what everyone calls her so please call her Kathy with a K…..K? It seemed very important to her.
She was very pleasant, a little too cheery, but full of information! There were maybe 20 of the seats filled so she had plenty of time to help each one individually and because we were part of a package she knew we were coming! She pulled out a map she had marked for us,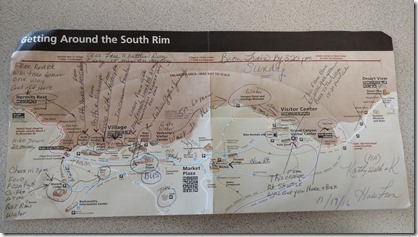 she had marked the trails, how long they would take to hike, our hotel, sight seeing, shuttle buses, water stations, gift shops, everything and more you could ever want to do on the south rim. It was quite detailed.
For most of the ride we just enjoyed ourselves. It was pointed out to us that the railroad tracks run right along the old stage coach route, the ruts are still plainly visible, we even saw an old building that was used as a stage coach transfer station. The old telegraph poles and lots of the wiring are still there, that was cool too. There was cattle, Elk, pronghorn deer who apparently wont jump a fence they go under it! I would have to see that. We even passed by Santa's village! They did a good job of that I can see why the kids looked so excited when they came back. Adam pointed out that next to the village was quite a large pile of coal……wonder who gets that?
The landscape changed around almost every corner. We went through flat lands and then into the Kaibab National forest and the huge ponderosa pines. Did you know that the the female trees smell like vanilla and the males smell like butterscotch? Kath with a K tells us we can remember which is which because men are always in the scotch! I don't know any men who are in the scotch, but I will remember that. It kind of amazed me that there were people living among the trees in a national forest, but there are a few places that pre-date it so they got to stay. Near the end of the ride there is an ancient looking place, log cabin a couple small out buildings and a solar panel. It used to be a uranium mine but has been closed for decades. The original owner sold it to the old couple who live there now back in the 70's and there major enjoyment in life now is to set out on their bench and wave to the train twice daily! They look like a couple old pioneers just grinning and waving at all the people whizzing by in the contraption on the tracks. We all waved back! Kath with a K has never talked to them but feels like they are her grandparents she see's twice a day, she makes sure everyone knows their story and waves.
The train arrived at the Grand Canyon south rim and we got off and went straight to our bus tour. Nice bus, great driver and guide. He took us to places closed to private cars and I was feeling all privileged until we realized the next day that the shuttle goes there to…….but he was a good guide and gave us a lot of info that the shuttle drivers do not. We stopped at Hopi point and spent some time looking out and learning and reading all about it,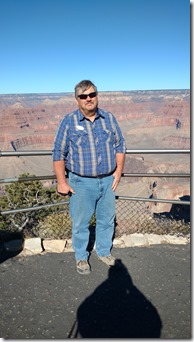 then back on the bus to Mohave point and hung out there to do more of the same. Mohave overlooks the Bright Angel trail, which is the most common trail for people to hike to the bottom. We spent some time talking about our experiences when we were younger hiking to the bottom and back up, we were not sorry to not be doing that today! We could see people on the trail and we almost shed tears of joy that it was not us! It was a great experience, but not one we need to repeat. Looking down, you just can't imagine hiking all that way or that it's even really possible. We also kept thinking that even being right there, on the edge, it all still looked very much like a mural just so perfect and surreal.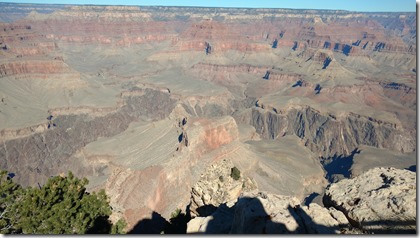 When we hiked the canyon the focus was on the hike, we had never explored the south rim and had no idea how much was there to see and do. There are many trails both long and short, rim walks from a couple to several miles, museums, visitor centers, great stuff! Our guide told us that as you hike down you pass through 5 of the 7 life zones. As I understand it each zone consists of different climate, animals, plants, things like that, so going from top to bottom it's quite a physical as well as mental adjustment if you're paying attention and looking. He also told us that they lose about 20 –25 people every year, mostly due to exposure, people going about unprepared or doing stupid things, but some fall over!
Now about those who do stupid things……our tour group was mostly good, but there was one lady who insisted upon going out beyond the rails and sitting on a ledge at every stop so she could kick her feet over the cliff. Her husband would calmly watch her and then proceed to thank her for "not doing those dumb and stupid things we talked about on the bus", she just laughed at him. There was one family who had quintuplets! There looked to be about 3 and they were all playing along the rocks and edges. There were parents and what I assume was an aunt but no one seemed too worried. I hope they all made it home!
Next stop was the Maswik lodge. It's an older building but well kept, certainly not a fancy lobby but it's also there that right off the lobby you have a huge food court and that's worth it. We checked in, had some lunch. I had a Navajo taco, now I ask you, what food court have you been to that would offer a Navajo taco and it would be tasty??? Adam had a burrito, he just can't pass up a burrito of any kind. Then we hiked a bit to get to our room, the buildings are quite spread out over a fair amount of property. We freshened up a bit, made sure our luggage had been delivered and then headed back up to the lodge to catch the shuttle. We took the blue route as instructed by Kathy with a K to go clear out to almost the farthest end of the rim to the main visitors center. It was interesting but not as much as we had thought. Some of the exhibits close by 3:30 pm which was a weird time so there wasn't too much to see. They did have a movie about the canyon though that was really worth seeing. It's about 20 minutes long and well done. The night before Adam and I hadn't really gotten much sleep so being in a theater, in the dark, sitting quietly, with a narrator with a smooth voice……we almost stayed for one more showing just so we could catch a nap!
By now it was coming on dinner time and we were tired, we had seen a lot and it was dark so we decided to have an early night. Back to the food court for cuban sandwiches and soup, tasty! Then a hike back to our room. Adam set up the tablet once again only to find that the wifi was very weak and slow and I wouldn't be able to unload anything anyway, cell signal was very poor too. Oh well! Secretly I believe I was more than a little pleased. I really was looking forward to blogging about this for our memories, but having to unplug for 3 days was truly a treat we needed and rarely have a chance to do. So an early night was had by all, and boy did we need it!