As we get more and more sister missionaries serving seeing them on bikes is becoming more common. Several years ago when my boys were serving the sister missionaries mostly drove cars. So when my daughter received her call and we discovered she would be riding a bike a good chunk of the time we were a bit surprised!
Now Alison is a fairly low maintenance girl but she has beautiful thick dark hair and she loves to do fun things with it. So when she learned that she was to ride a bike and expected to wear a helmet there was a grimace that passed over her face.
But when serving as a missionary and riding a bike it's important to be safe! And it's important to be cheerful and go with the flow. So Alison and helmet hair have become friends.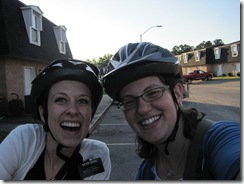 Keep your sense of humor sisters! You have the rest of your life to have perfect hair, for 18 months get in touch with the helmet hair, and serve with a smile!!